**Angel Wings was inspired by Halle Scott's passing to begin this ministry in June 2014.**
Our sweet Halle Scott Windham earned her angel wings when she was 15 months old after spending her entire life since birth in the NICU. The prayers and love put into each gown is felt on the other end. Please consider sponsoring this non-profit organization so they can continue touching lives, sharing unconditional love to someone they have never met, and giving hope in the days ahead.
May God bless all of you,
Amy Windham
In memory of Halle Scott Windham
Jeremiah William Rose grew his angel wings on August 15 2014. He took his first and last breathes on this day. After 51 beautiful minutes with his family, he passed away in my arms and woke in heaven in the arms of our LORD. Jeremiah's passing came as no surprise for my husband, Will, and I. On April 4, 2014 Jeremiah was diagnosed with Anencephaly and given a 0% chance of survival. Of course Will and I prayed for a miracle for our son but knew we had to prepare ourselves if that miracle didn't come. We continued with our pregnancy as normal. Jeremiah was growing so big, as was my belly. It was hard to imagine that the child that was growing inside of me was a child that soon we were going to have to say good-bye to. As my pregnancy progressed we also learned that Jeremiah's conditions did not change, and was not going to change. We knew than that we needed to start making preparations for Jeremiah's passing. My due date with Jeremiah was August 30th and the doctors were confident I would make it to that date. So come late July we started on the preparations, we met with the funeral home, we met with our pastors and we met with our families to make sure everyone was prepared for that day. The only thing I was putting off, and putting off, was preparing Jeremiah for that day. What would he wear? What would we put in the casket as we said our last good-byes? I didn't want to think about it, because if I made those final preparations, it was true, we were really going to bury our baby. About a week before Jeremiah came I was sitting on my bed praying for God to give me the strength that day to get up and go shopping for Jeremiah's burial outfit. I had put it off long enough, and today had to be the day. In the middle of my prayers, Will called me. When I answered he told me a co-worker of his heard of an organization called Angel Wings Memory Gowns, that just started up in July and made burial gowns for babies. I immediately looked them up on Facebook and sent a message asking for more information, and how much a gown would cost. Not even 10 minutes later I received a message back from Jennifer. She explained to me how the gowns were made and that they were at no cost to the families. She told me that her organization was still fairly new and how the LORD guided her to start making memory gowns for families in need. Jennifer then asked me a little bit about Jeremiah. You could tell she truly did care and wanted to ease the pain as much as possible. Looking back, I know on that day, even in the midst of heartbreak, we formed a forever bond. I let her know that we still had a few weeks before Jeremiah's due date and we made plans for us to meet in the next week or so for me to pick up his gown. Well, Jeremiah and the Lord had different plans. Just a few days later I found myself being rushed to the hospital with extremely high blood pressure and contractions. Upon arriva,l doctors were planning an emergency c-section. When I found this out I immediately messaged Jennifer to let her know what was happening and I wouldn't be able to get a gown from her at all. Little did we know that once Jennifer received that message she was rushing from her home in Gatlinburg to the hospital in Knoxville to bring us the gown she had made for Jeremiah. Once we were out of surgery, we returned to our room and we had our time with Jeremiah. While he was still alive, a nurse brought in a white box and said that someone had left this for us at the desk. Surprised, we opened the box and instantly broke into tears. There was Jeremiah's gown. We just couldn't believe that someone who didn't know us at all, dropped everything they were doing just to make sure we had that gown before we left the hospital. Because Jennifer went out of her way to do this for us we didn't have to have the added stress or heartache knowing when we left the hospital, without, Jeremiah, we would still have to go shopping for his final outfit. I don't think my husband or I would have been able to do that. Just looking at the gown you could tell it was made with love and bathed in prayer for the baby and family that would receive it. Later that night when family had left, and we had finally let Jeremiah go, we were sitting alone, broken in that hospital room. I turned my phone on to find a message from Jennifer. The message was filled with such love and compassion and encouragement. All of this from someone, who at this point had never met me or my family. The love of the LORD shown through her so much that day. My husband and I will never forget it. I still have the keepsake card that came with the gown. It has a scripture verse, the name of the person who made the gown, and a little heart shaped cutout from the gown. It still brings me comfort knowing I have a little piece of his gown with me. Looking back I know that Jennifer and her organization were a true answer to my prayers and sent by the LORD to bring peace and comfort not only to me and my family, but to every other family who has and will receive an Angel Wings Memory Gown. I thank you for taking time out of your day and letting me share the impact that Angel Wings Memory Gowns has had on me and my family.
God Bless,
Rebecca Rose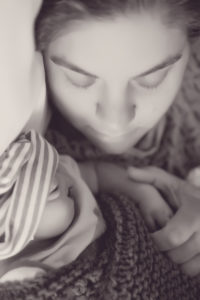 Jane Phillips Medical Center gifted a baby boy gown set last week. Mom stated "We would never be able to find something as beautiful for him to wear." As staff nurses, we appreciate being able to offer such quality and beauty in a garment during a very difficult time for our families. Thank you for the hours of work and passion represented in each one. Your group is making a difference for families!
Linda Quigley, RN, BSN
Nurse Manager Family Services
Bartlesville, OK
We enjoyed 6 weeks with my beautiful grand daughter. The hospital provided a beautiful gown from Angel Wings for her to wear. The gown was perfect! We felt so loved from their gift that they provide to families devastated by the loss of a child.
April Smith
Angel grandmother
Knoxville, TN
"This organization fills a need that most people couldn't
imagine having to fill. You never imagine having to
consider what to get your child for their funeral. They
helped our family in our time of need. Very worth of
your support!"
Dan Austin
Father of Gabriel Austin who received a Angel Wings
Memory Gown
"On March 4th 2015 our sweet Myles came into the
world an angel. I remember the nurse bringing our
beautiful son to us in a simple white gown with a blue
bow tie. The only outfit that our son would ever wear. I
can remember seeing him in the gown thinking how
beautiful it was. I had heard of Angel Wings previously
but honestly never thought we'd be the one receiving
this precious gift. I cannot thank you all for the work
you are doing. It's people like you and your selfless acts
that restores hope to grieving families. These gowns
are something for parents to hold onto. Know that you
are easing the burden for a grieving family."
Angela Whitson – mother to Myles who received an
Angel Wings Memory Gown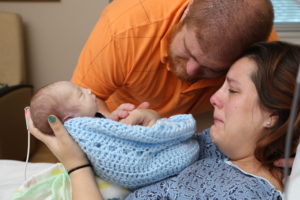 "It gives me the utmost pleasure to share nothing but
praise on behalf of the amazing, giving souls
at Angel Wings Memory Gowns.We first learned about
them via social media. As a NICU nurse manager in a
community hospital located "off shore" in the US Virgin
Islands, sourcing services available to us such as this,
can be challenging to say the least. Angel Wings was not
daunted by the fact that we are off of the main land.
They accepted our request and provided the most
amazing shipment of beautifully hand made gowns,
wraps and other memory items to be shared with
families experiencing the devastating loss of a baby.
There really is no price on items and a service such as
this."
Faye John-Baptiste, RN
NICU Nurse Manager
"We are thrilled to see that your organization has
thought of honoring babies of all gestations with
beautifully made packages.
The families have been very appreciative of the beauty
of your gowns. The hats, diapers, teddy bear, bracelet,
gown and blanket are truly amazing. One of the
families commented that they still love to look at the
mementos and can still smell their sweet baby on their
blanket.
The Birth Center staff is very thankful for your
generosity as it is such a tough time for these families
that every little bit of "love" seems to help. Reaching
out to these families who have experienced loss is very
commendable and appreciated."
The Birth Center Staff at the Reedsburg Area Medical
Center, Reedsburg, Wisconsin
"I asked Jennifer to speak to our leadership regarding her
non-profit organization. Angel Wings Memory Gowns
supplies our Labor & Delivery patients with gowns for
infant deaths. They do this for all seven hospital facilities
across the Covenant Health system.
I was so impressed by Jennifer to the need of this program.
She handled this sensitive subject well, and our leaders
were so touched and inspired by these people who give so
much volunteer time for such an incredible service.
Jennifer and Ben, as co-founders, appear to use donations
wisely. Their "shop" is modest, and all seamstresses
volunteer their time to make the gowns from old wedding
dresses."
Wilma Brantley, RN, MSN
Journey to Excellence Coach
Covenant Health
"While the birth of a baby is usually a joyful moment in a woman's life, this is not always the case. The hardest
part of my career as an L&D nurse was caring for the
women and families that do not get to take their
newborn home with them. We have struggled with
clothing options for them. I had found Angel Wings
while browsing Facebook. Ben made the very first
memory gown, given to a family at one of our Covenant
Health facilities, in their deepest time of need. Ben's
dedication to this ministry is amazing. He is such a
blessing not only to his community, but to communities
all around the world, as Angel Wings Memory Gowns
provides gowns to hospitals all over the USA and Virgin
Islands. I have had the pleasure of volunteering for this
organization for a while now and I can truly say,
the impact that these gowns have on these families is
amazing. They do not have to worry or be concerned to
purchase something for their baby to be buried in. They
do not have to think about "will it fit, will it look good,
or will I have the time to go get something? The event
of losing a baby is extremely hard and comes with a lot
of burden…Ben Jones and his ministry help take away
some of that burden."
Kimberly Walls, MSN, RN, RNC-OB
Senior Application Analyst ~ CPNUG Treasurer 2016
Clinical Specialty Informatics Team
Covenant Health Information Technology
"These are two special people! Ben & Jennifer Jones co-founded Angel Wings Memory Gowns. This non-profit organization re-purposes donated wedding dresses into complimentary burial gowns for babies that never make it home. This unbelievable ministry is solely funded by donations and works completely on a volunteer basis. My daughter learned of their ministry several years ago through her community service work. Since then, Wendy and I have become prayerful supporters. I was honored to be their guest at the 2017 Denim & Diamonds Gala."
Greg Patterson, Sevier County Trustee