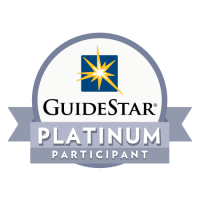 Angel Wings Memory Gowns earned the Platinum GuideStar Nonprofit Profile Seal of Transparency, the highest level of recognition offered by GuideStar, the world's largest source of nonprofit information.
Angel Wings Memory Gowns is a 501(c)3 non profit organization. We are a ministry funded solely by donations and work completely on a volunteer basis.

* Paypal.com – MemoryGowns@gmail.com  (please click on friends and family to save fees)
* Sign up for our monthly gift plan and bless this ministry every month with whatever amount you choose.
Multiple families will receive comfort and hope through your gift. We pray that this ministry will lead many families to a life changing relationship with Jesus Christ. Thank you for partnering with us as we share the love of Christ with grieving families who have lost a child.
We are so grateful for your donation and your prayers!
Blessings,
Ben & Jennifer Jones
Co-Founders
Angel Wings Memory Gowns